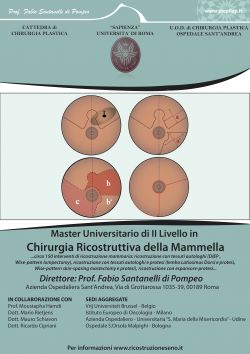 At the "Sapienza" University of Rome, School of Medicine and Psychology.
Director Prof. Fabio Santanelli di Pompeo
It started on 2007 and is the first Master, in Italy, dedicated to selective education on breast reconstruction techniques, with special attention to DIEP, Latissimus Dorsi flaps and fat grafting. The Master offers a practical and detailed education on these procedures, through direct participation to surgery along 12 months course. The Master is repeated annualy and addressed to any post-graduated students in Medicine and/or full board in Plastic Surgery, with a maximum number of 15 candidates per year, usually coming from all over Italy and other European countries.